"Improving the lives of those around us as well as the world in which we live."
The Barnes Foundation was created by my father, Terry Barnes, back in 2009. Since then, the Barnes Foundation has been committed to raising money for carefully selected organizations within our community and beyond.

Matt, Christian and I were always encouraged by our parents to give back in a loving and compassionate way; the foundation was a great start. Through the foundation we have the opportunity, along with our spouses, Sarah, Jennifer and David, to pass that same spirit down to our children: Sonny, Dean, Jake, Frankie, Veronica, Sydney, Levi, Ramona and Stella.

Every year since its inception, the Barnes Foundation has delivered on its mission to improve the lives of those around us and its pledge to give back to others. Through our commitment to building a strong foundation for future generations, we hope to touch as many lives as possible.

Please take some time to review our website and learn more about the Barnes Foundation including highlights and photos from past events and thank you notes received from charities we have worked with since our beginning.

We are thankful for everyone who has participated in the Barnes Foundation's efforts.

Warm regards,

Amy Barnes Gollan
President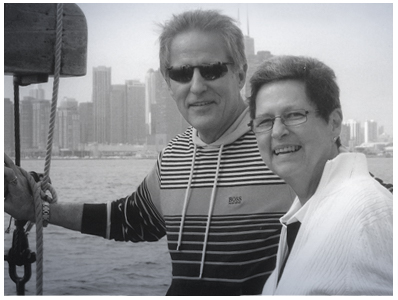 Terry Barnes and his sister, Merrily Kane
Terry's success in business since 1968 lead him to establish the Barnes Foundation as a way to give back to worthy organizations.

His sister, who was battling cancer at the time, was his inspiration to create the "Walk for Life" events in order to raise money for the American Cancer Society and other leading Cancer organizations. The first two "Walk for Life" events helped raise over $100,000 for the American Cancer Society.
Amy Barnes Gollan | Greg Severson | Janet Barnes



The Barnes Foundation recognizes the Barnes Family, our Corporate Sponsors and individual donors for their generosity in helping us make the greatest possible impact. With your help, the Barnes Foundation has donated over $300,000 to leading organizations since 2009 and is on track to donate an additional $60,000 in 2016.

The Barnes Foundation is proud to be a 501C3 organization and all donations are tax deductible.